When the weather becomes cooler and drier out, some of us rely on a humidifier to keep the air around us moist while we sleep. Dry air can have adverse effects on our health. It can cause nasal congestion, irritate our skin, and even exacerbate asthma symptoms. For those of us prone to these conditions, a filterless humidifier can make a world of difference to our health and comfort.
Humidifiers have many merits, however, the cost of replacing filters can run high. And let's be honest, the cleanup is a straight-up pain! Getting humidifier without a filter is your BEST HACK around these pesky issues. We'll walk you through the 5 best filterless humidifiers there is in the guide below.
5 Best Filterless Humidifiers Reviewed
How to Choose A Filterless Humidifier for Your Bedroom
The ideal humidity range in any given room should hover around 30 to 40%. If your humidifier doesn't give out enough moisture, you'll continue to feel the effects of dry air. Too much humidity can in turn breed dust mites, mold, and mildew. With so many ifs and buts, how do you choose the best unit that fit your needs? Let's explore below.
Top 5 Humidifiers without a Filter
Filterless Humidifier Reviews
1. Best Filterless Humidifier – TaoTronics Warm & Cool Mist Humidifier
TaoTronics Warm & Cool Mist Humidifier
Get the best of both worlds with the TaoTronics humidifier. You get warm and cool mist settings, automatic humidity monitoring, remote control, and sleep mode. This is easily the best humidifier with a 1.6-gallon tank capacity and up to 753 square feet coverage.
Highlights:
Automatic monitoring to maintain humidity at the desired range
Timer and sleep modes
3 mist output settings
Comes with remote control
Comes with aromatherapy tray and pads
If you're indecisive about getting a warm or cool mist humidifier, the TaoTronics humidifier is your solution. No need to get out of bed-the convenient remote control and led display makes controlling this humidifier a breeze. In sleep mode, the led turns off for uninterrupted sleep. You can choose between three mist settings, three mist temperatures, and set automatic humidity monitoring.
The top filling option makes it easy to refill and clean, and nano-coating adds to its longevity. The essential oils tray makes it easy to diffuse your favorite fragrances in the room. It's the best humidifier without a filter for large rooms, baby rooms, and bedrooms.
Pros and Cons of the TaoTronics Warm & Cool Mist Humidifier:
Pros
Great for large rooms or studio apartments.
Warm and cool mist functionality means that it can be used all year round.
The remote control is a lazy person's dream.
No LED glare or beeping on sleep mode.
Top-fill design. No more spills during refills!
Cons
With a huge water reservoir, we'd have guessed that it would have lasted longer between fills.
Keep your humidity at bay all day and year-round with the TaoTroncs humidifier. With the large water capacity and up to 60 working hours, you'll forget when you last refilled it!
2. Best Large Room Filterless Humidifier – Levoit LV600HH
Levoit LV600HH
Levoit LV600HH is a high-tech cool and warm mist humidifier with a LED display and remote control for maximum comfort. With a large water capacity and 25% faster work than its competitors, this is the best large room humidifier without a filter.
Highlights:
Built-in sensor automatically maintains humidity at desired range
12-hour timer
3 mist levels
Aromatherapy box
Comes with remote control
Set and forget your Levoit LV600HH with the built-in humidistat. It controls the humidity levels and adjusts mist levels accordingly. With the touch control display and remote control, you can make any adjustments from the comfort of your bed. The diffuser helps you create an aromatherapy experience.
The mineral absorption pads included keep the heating plate clean and the humidifier working like the brand new. This ultrasonic humidifier produces less than 36dB noise making it the best large room filterless humidifier for homes or offices. The large tank is made from ABS plastic, and while it's easy to clean, it's still bulky to move around.
Pros and Cons of the Levoit LV600HH:
Pros
With a 6L water tank, the Levoit LV600HH is great for large bedrooms.
We love being able to set the humidity at the level we wanted.
Levoit provides handy mineral absorption pads.
Dual mist. Can be used all seasons.
Having a remote control means you don't even need to get out of bed.
Cons
When the tank is full, it can be cumbersome to move around.
Its bottom-fill design makes it 'spilly' during refills.
With Levoit LV600HH, you get a quiet large capacity humidifier that keeps a constant air humidity level without the burden of continuous refills and setups. Sleep and breathe better all year!
3. Best Cool Mist – Everlasting Comfort Ultrasonic Humidifier
Everlasting Comfort Ultrasonic Humidifier
Everlasting Comfort Ultrasonic Humidifier is a whisper-quiet cool mist humidifier suitable for large spaces, nurseries, or bedrooms. The super high mist output, large tank capacity, and essential oils tray make for the best cool mist humidifier without a filter.
Highlights:
2 misting functions: 'min' and 'max'
Comes with essential oil tray
Automatically turns off when water levels are low
A cool mist humidifier is ideal for night use, and Everlasting Comfort is quiet enough to ensure an uninterrupted sleep. Running on tap water with above-average humidifying power, this is the best cool mist humidifier. Ideal for alleviating your respiratory issues and improving the overall air quality of any space up to 500 square feet.
Once the humidifier is out of water, it will automatically shut-off. With the LED-lit water level window, it's easy to see when a refill is needed, but the bottom fill design is cumbersome and not spill-proof. There's no built-in humidistat to adjust the amount of mist diffused in the air. It's best to get a hygrometer and adjust its mist settings manually.
Pros and Cons of the Everlasting Comfort Ultrasonic Humidifier:
Pros
Runs a long time (over 2 days) between each refill.
Distilled water is not required. A big yes for convenience and saving money!
Essential oil tray is a bonus feature.
Cons
Bottom fill design makes emptying and filling up its tank a bit messy.
Doesn't come with a built-in humidistat. You'll have to use an external humidity monitor.
Everlasting Comfort is an excellent humidifier at a moderate price, safe for use around kids and babies in nurseries. Combat airborne viruses and diffuse essential oils with only one appliance.
4. Most Affordable Filterless Humidifier – MistAire Silver Ultrasonic
MistAire Silver Ultrasonic
The MistAire Silver Ultrasonic cool mist humidifier features a smooth design and a 360 rotating nozzle making it ideal for home or office use. This small humidifier offers excellent value for money with 25 working hours on a 0.5-gallon tank!
Highlights:
360-degree rotating mist nozzle
Whisper-quiet operation
High & low mist settings
Automatic shut off when water levels are low
Pure Enrichment MistAire is the best small cool mist humidifier from the latest generation. The sleek design ensures easy maneuvering around the house, and the top filling option makes refilling simple and easy. The added night light and low noise production make it an excellent tabletop humidifier for bedrooms or nurseries up to 250 square feet. The five-year warranty serves as an indicator of the humidifier's quality.
Regulating the humidity has to be done manually, and there is no option for using essential oils. Cleaning the Pure Enrichment MistAire silver ultrasonic cool mist humidifier can be challenging due to the specific design.
Pros and Cons of the MistAire Silver Ultrasonic:
Pros
Small profile. Makes transporting the unit to other rooms a breeze.
Lots of sleep-friendly features. LED light powers down after 10 seconds.
Top-fill design. Filling up the humidifier was super easy.
One of the quietest units we tested.
Cons
Doesn't come with a built-in humidistat. You'll have to use an external monitor to get your ideal humidity range.
MistAire is an exceptional compact humidifier to have on hand to take out and turn on when seasonal allergies hit or you want to improve your sleep.

5. Best Warm Mist Humidifier – Honeywell HWM845BC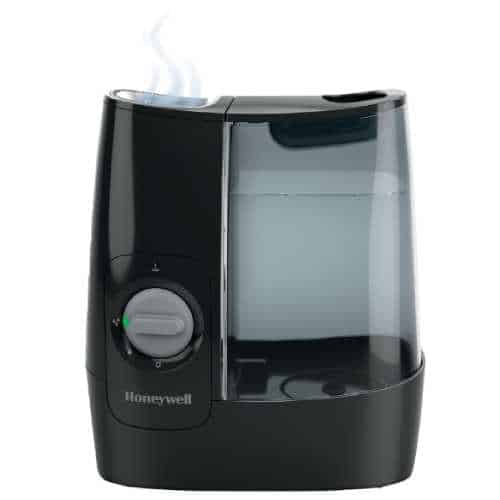 Honeywell HWM845BC
The Honeywell HWM845BC is a lightweight and compact tabletop unit. This warm mist humidifier diffuses a 99% bacteria-free mist and helps create a pleasant breathing environment for 24 working hours on a 1-gallon tank.
Highlights:
99.5% bacteria-free mist
Automatic shut-off when empty
2 moisture settings
Comes with essential oil holder
Honeywell is a well-known brand when it comes to air conditioning units. This warm mist humidifier is another of their gems with a practical design, large tank opening for refills and cleaning. The added essential oil holder allows you to add essential oils or inhalants that help with your respiratory problems.
Honeywell HWM845BC is ideal for medium size rooms of up to 700 square feet. It has two mist settings and an automatic shut-off, but no built-in humidistat, so you need to manually check and adjust the humidity in your home. Some people have trouble sleeping with a warm mist humidifier on, so it's not the best choice for bedrooms.
Pros and Cons of the Honeywell HWM845BC:
Pros
Reliable brand. You can trust the product is made well and is durable.
Outputs 'almost' bacteria-free mist. Great for those prone to respiratory issues.
Dishwasher-safe components make cleaning so much easier.
The essential oil cup is a bonus for those who enjoy aromatherapy.
Cons
Like the other single mist humidifiers, we wished it had a built-in humidistat.
Trust a reputable brand like Honeywell to battle dry air discomfort with a warm mist humidifier that can run up to 24 hours at a time.
Choosing the Perfect Unit for Your Bedroom
Cool, Warm or Dual Mist?
Both cool and warm mist humidifiers are useful, but warm mist can achieve a higher moisture saturation level. Warm mist humidifier benefits include reducing airborne bacteria and germs and helping with dry skin conditions. People with respiratory discomfort can rely on a warm mist humidifier to assist their breathing.

Cool mist humidifier benefits include low energy consumption and year-round use. They're great for keeping desired humidity levels at night without heating the room. Cool mist humidifier's tank and mist are not heated, so they're safer to use around babies and curious pets.
How Big is Your Room?
To choose the best room size humidifier, decide where you'll use it, and measure that space. Every humidifier has a limit of how much square footage it can cover. There are tabletop humidifiers that can humidify a room of 25 square feet and marvelous machines that can humidify up to 1,000 square feet.

It's essential to match the right humidifier with the right space; an underperforming humidifier won't significantly benefit you. A humidifier with higher output than your room needs can contribute to very high moisture saturation, causing breathing problems, bacteria, and mold growth.
How Much Water Can It Hold?
While humidifiers can help you sleep better, getting up in the middle of the night to refill your humidifier sounds like a nightmare. How and when you plan to use your humidifier will determine the water capacity you need. If you live in a drier area and the humidifier will run non-stop, choose a model with a larger water capacity and output.

Water capacity in humidifiers for personal use can range from 0.5 to 2 gallons depending on the unit's size. Keep in mind that a larger water tank capacity makes for a larger humidifier. Some humidifiers with lower output can run on the same tank for two days without a refill.
What's Its Noise Output?
Keeping noisy appliances on during the night may disturb your sleep, but your humidifier doesn't need to be one of them. The sound an average humidifier produces is 30dB, often compared to the actual sound of a whisper. If you're a light sleeper, a humidifier won't disturb your sleep.

Every humidifier makes a little noise, but larger appliances tend to be louder. As a rule of thumb, cool water mist humidifiers make less noise than warm mist humidifiers since they don't heat the water. Mist setting can contribute to noise, too; a higher level mist setting produces more noise. Make sure to check the manufacturer's noise output declaration.
FAQ
Are filterless humidifiers better?
Filterless humidifiers are more economical, environmentally friendly, and make less noise than filtered humidifiers. They save you the time required for cleaning the filter every week and the money for buying special filter cleaning solutions. Replacement filters can be costly and sometimes hard to find, especially in conditions like pandemics when supplies tend to run out.
How do I clean my filterless humidifier?
Always check the manual for cleaning instructions and what you can and can't use. Some humidifier tanks are dishwasher safe. For others, the most common demineralization method is unplugging the humidifier, filling the tank with one cup of white distilled vinegar and one cup of water, letting it sit for an hour, and then washing it. For disinfection, switch the vinegar for one teaspoon of liquid bleach for each gallon of water the tank holds. Generally speaking, clean your humidifier at least once a week.