The American Sleep Apnea Association recommends cleaning your CPAP mask and humidifier water chamber daily1. Your CPAP tubing should be cleaned at least once a week. All the cleaning and maintenance can add up! CPAP cleaners simplify this process by sanitizing these components with the touch of a button. The best CPAP cleaner can even do this in under 10 minutes!
Getting used to sleeping with a CPAP machine can be an ordeal in itself – the last thing you want to deal with is having to clean it. If you're thinking about skipping this step, don't! Your CPAP equipment traps oil, dirt, and debris that can cause the growth of harmful bacteria. The good news is cleaning your mask, hose, nasal pillow, and other components need not be a chore anymore with a CPAP cleaner. In this guide, we'll show you how to choose the best CPAP cleaner in 3 easy steps!
Quick Summary: Which CPAP Cleaner is Best?
Step 1: Consider 4 Key CPAP Cleaner Buying Criteria
The first step in purchasing a CPAP cleaner is knowing about the 4 important buying criteria below and how they can affect you. Answering these questions will help narrow down the type of CPAP cleaner that works for you.
Step 2: Compare the Top 5 CPAP Cleaners
Now that you know the features of a CPAP cleaning machine that's important to you, let's pit the top 5 units in the market against each other. We'll run a side-by-side comparison and see how they stack up.
| Brand | Sanitizing Type | Sanitizing Time | Recurring Replacements | Price |
| --- | --- | --- | --- | --- |
| Lumin CPAP Cleaner | UVC sanitization | 5 minutes to complete cleaning cycle | No replacement filter required. | |
| SoClean CPAP Cleaner | Cleans with activated oxygen | 7 minutes sanitization + 2 hours wait time | Filter & check valve to be replaced every 6 months. | |
| Sani Bot D3 | Ultrasound & heated water | Between 5 – 30 minutes to complete cleaning cycle | No replacement parts needed. Cleansing tablets to be purchased once you run out. | |
| Sleep8 CPAP Sanitizer | Cleans with activated oxygen | 1 hour total cleaning time | Sanitizing bag (with filter) replaced every 90 days. | |
| VirtuCLEAN 2.0 CPAP Cleaner | Cleans with activated oxygen | 30 minutes cleaning time | Sanitizing bag replaced once a year. Filters need replacing every 6 months. | |
Step 3: Read the Best CPAP Cleaner Reviews
1. Best CPAP Cleaner – Lumin CPAP Cleaner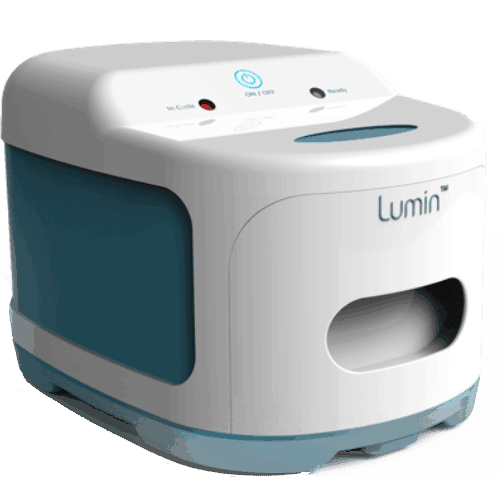 Lumin CPAP Cleaner
Lumin CPAP cleaner is a UV light cleaner that removes bacteria, mold, and germs from your CPAP mask using a low-pressure, mercury-arc lamp. Lumin produces 254nm UV light, the same high-powered UV light that is used in hospitals, and sanitizes your mask in 5 minutes.
Highlights:
UVC sanitization system. Waterless and ozone-free
UVC bulb rated to last the lifetime of the product
30-day returns less shipping
2-year warranty
Lumin CPAP cleaner is a small unit that works fast and efficiently to sanitize your CPAP mask in just 5 minutes. No drying or wiping on the mask is required after getting it out of the cleaner's drawer. The cleaning cycle might look short, but it uses high-power UV light that kills microorganisms, bacteria, mold, and keeps your CPAP mask safe for use.
Since it's a UV light CPAP cleaner, Lumin has virtually no maintenance costs. The UV light has a long life span. It's versatile; you can sanitize anything that fits into the drawer, like N95 face masks used daily for Covid-19 protection.
Pros and Cons of the Lumin CPAP Cleaner:
Pros
Extremely quick cleaning. Take only 5 minutes to complete.
No smell or risk to people with respiratory issues since it doesn't use Ozone.
Lumin LM3000 has been authorized by the FDA for use by healthcare workers to reduce the bio-burden of N95 masks aimed at preventing exposure to SARS-CoV-2. This speaks to the credibility of the product.
No replacement or resupply is required!
Cons
Can't sanitize the inside of the hose. It has a companion product (Lumin Bullet) that can take care of it but will cost extra.
Lumin CPAP UVanitizer and disinfectant is FDA approved, fast, easy to use, and requires no maintenance. The best CPAP cleaner on the market comes with a 30-day trial period.
2. Runner Up – SoClean CPAP Cleaner
SoClean CPAP Cleaner
SoClean CPAP cleaner uses ozone to eliminate 99.9% of the germs, bacteria, and microorganisms from your mask, tubing, and nasal pillow. It features a big chamber, it's cost-effective, compatible with most CPAP masks, and has a 7-minute cleaning cycle.
Highlights:
Activated oxygen cleans and sanitizes CPAP components
Compatible with most masks (free adapter included)
Filter and valve need replacement every 6 months
2-year warranty
SoClean CPAP cleaner is a waterless cleaner that uses activated oxygen to sanitize and disinfect your CPAP parts. The most significant feature is the large chamber that can fit your mask, tubing, and nasal pillow. It has a sleek design with a front display and indicator lights that alert you throughout the cycle. It's compatible with most CPAP machines, and you can find a compatibility chart on their site.
Maintenance is simple; you need to pre-wash the unit before the first use and replace the filter every 6 months or when the device notifies you. Ozone has a strong smell, so it might not be enjoyable for some.
Pros and Cons of the SoClean CPAP Cleaner:
Pros
The SoClean 2 works well with most CPAP masks. Free adapters are also included for some of the standard CPAP machines.
No water or cleaning solution is needed. Pretty fuss-free.
Large cleaning chamber that can accommodate CPAP mask, tubing, and nasal pillow.
Comes with a 30-day trial.
Cons
Even though active cleaning only takes 7 minutes, you'll have to wait 2 hours before the cycle is complete.
For those sensitive to scent, the smell of ozone may be an issue.
Get a device that can clean the crucial CPAP parts so you can sleep peacefully and protected. Don't have to decide now; SoClean CPAP cleaner comes with a 30-day trial.
3. Most Affordable CPAP Cleaner – Sani Bot D3
Sani Bot D3
Sani Bot D3 is an affordable CPAP cleaner that uses water and powerful cleansing tablets to clean your CPAP mask thoroughly. It comes with a stainless steel tank, touch screen panel, a removable cover with window-view, and a turn-off valve for easy draining.
Highlights:
Cleans with ultrasound, heated water, and disinfectant
Comes with 60 disinfectant tablets and a drying tray
90-day money-back guarantee
2-year manufacturer's warranty
If you're aren't fan of UV or activated ozone, Sani Bot D3 is the perfect CPAP cleaner for you. The tank can accommodate the mask and, in some cases, the tubing too. The cleaning process is simple, fill the tank with tap water, dissolve a tablet, and submerge the CPAP mask. The Sani Bot's ultrasonic transducers and the cleansing tablet will shake out and dissolve grime stuck in CPAP components. You can set the timer from 1 to 30 minutes depending on if you want a whole cleaning cycle or not.
Maintenance is cumbersome; you must empty, dry, and wipe the tank after each use. The CPAP mask is wet after cleaning, so you must dry it with the CPAP machine or on the accompanying drying tray.
Pros and Cons of the Sani Bot D3:
Pros
Unlike Ozone and UV cleaners, the Sani Bot's ultrasonic cleaning can scrub away any dirt and oils on masks and nasal pillows.
If you're concerned about the harmful effects of UV or Ozone, this is the unit for you.
The SaniBot D3's cleaning chamber is large enough to fit most equipment.
With a 90-day free trial, this is the best we've seen so far with most CPAP cleaners.
Cons
Mask still needs to be dried after use by placing on drying rack or blowing air through CPAP machine.
Sani Bot D3 is an affordable CPAP cleaner that safeguards your health by providing you with a perfectly clean CPAP mask each night. Get a 90-days free trial to believe!
4. Portable CPAP Cleaner for Traveling – Sleep8 CPAP Sanitizer
Sleep8 CPAP Sanitizer
Sleep8 CPAP sanitizer is the perfect portable CPAP cleaner. It's a plastic bag that connects to a small device with a control screen, and it works on a rechargeable battery. It uses ozone, and it's compatible with all masks and tubing that can fit in the bag.
Highlights:
Cleans and sanitizes with activated ozone
LCD screen with countdown timer and battery indicator
Sanitizing bag needs to be replaced every 90 days
Warranty period: 2 years
Travel is not an easy thing to do for those suffering from sleep apnea; Sleep8 CPAP sanitizer is here to make using your CPAP machine on the go more comfortable and safer. As soon as you wake up, put your tubing and mask in the plastic bag, seal it, and plug it into the device. If you need a portable CPAP cleaner, this is your best choice; the bag is foldable, lightweight, and can be carried everywhere.
The sanitizing process lasts about an hour, which is not bad for a travel size CPAP cleaner. It's recommended to replace the filter of the bag every 3 months.
Pros and Cons of the Sleep8 CPAP Sanitizer:
Pros
Practically kitted for travel. Sleep 8 is compact and ultra-lightweight.
Rechargeable battery can last up to 3 sanitizing cycles.
Sanitizing bag is large enough to fit CPAP mask, hose, and nasal pillow with no problems.
Try it 30 days risk-free!
Cons
Slight ozone scent after use. Seek your doctor's advice if you're prone to respiratory issues before using.
You'll still need to wipe your masks down to get rid of oils and debris before playing into the Sleep8 sanitizer.
Living with sleep apnea isn't easy, but don't let it stop you from traveling. Get Sleep8 and protect your breathing anywhere you are. It comes with a 30-day trial period.
5. Most Convenient – VirtuCLEAN 2.0 CPAP Cleaner
VirtuCLEAN 2.0 CPAP Cleaner
VirtuCLEAN 2.0 is an efficient ozone CPAP cleaner that can be used with all CPAP masks and tubing. It's a rechargeable lightweight device with a sleek design, an LCD panel, and an automated cleaning process. The cleaning process takes 30 minutes.
Highlights:
Cleaner usage and compliance data displayed on-screen
USB rechargeable batteries
Sanitizing bag and filter need to be replaced on schedule
Warranty Period: 24 months
VirtuCLEAN 2.0 is a small but effective CPAP cleaner that requires little to no maintenance. It's an ozone cleaner that can accommodate any size mask and tubing. It's a quiet, portable CPAP cleaner that kills germs and bacteria off your mask in a 30-minute cleaning cycle. The only maintenance you have to do is a periodical filter change and bag sanitization.
It comes with a rechargeable lithium battery that fully charges in 2 hours, an LCD display with a countdown timer, and usage data statistics. You can keep up with your CPAP cleaning schedule with the press of a button. VirtuCLEAN 2.0 is suitable for travel or at home use.
Pros and Cons of the VirtuCLEAN 2.0 CPAP Cleaner:
Pros
Other than switching out the filter and sanitizing the bag after a few months, no maintenance is needed.
We liked that the LCD screen displays weekly usage data. This reminds you to keep your CPAP clean and compliant.
If you're unhappy with the VirtuCLEAN 2.0, it comes with a 30-day trial.
Weighing at 0.5 pounds, this is another unit great for traveling.
Cons
Some complaints about post-purchase customer service.
Similar to all ozone cleaners, those sensitive to scents and those with respiratory issues should seek advice from their physician before use.
A CPAP cleaner that's easy to use and convenient to take anywhere is worth the price. Try it out for 30-days, and it might be a keeper!
Choosing the Best CPAP Cleaner
Is It Compatible with Your CPAP Machine?
When choosing a CPAP cleaner, you must pay attention to the size and compatibility with your CPAP machine. Your CPAP cleaner needs to have a chamber big enough to accommodate all the CPAP machine components that need cleaning. This includes the mask cushion, tubing, and humidifier water tub.

Most brands will have a compatibility list published on their site. Check if your CPAP machine is compatible with the cleaner you had in mind. Incompatible CPAP cleansers might cause damage to your device or not clean it properly and lead to infections. If there's not a compatibility list on the manufacturer's site, call them and get informed.
What Kind of Sanitizing System is Used?
You can choose from a couple of sanitizing methods. Ultrasonic sanitizing systems use heated water in combination with a cleaning solution. This combination is highly effective in killing germs, removing debris and oils, but because there's water involved, it might be troublesome to dry your equipment by the time you need it.

Activated ozone as a sanitizing system is practical, efficient, and doesn't require water. But if ozone leakage happens, it can damage your lungs and cause breathing problems.

UVC light CPAP cleaner is very useful in killing germs, mold, and bacteria. It's widely used in medical facilities to sanitize equipment and to purify air. UVC light CPAP cleaners are safely designed to lower the risk of exposure. However if you come into direct contact with UV light, it can cause skin or eye damage.
How Long to Complete the Cleaning Cycle?
You use your CPAP machine daily, so cleaning needs to be not only practical but fast too. For your CPAP machine to be ready for the night, the cleaning cycle can't be lengthy. CPAP cleaners cleaning process usually lasts between 5 minutes and a few hours. Make sure to check the exact timing of the cleaning cycle before purchase.

If you have to wait hours for your device to be clean and ready for use, it might interfere with your recommended CPAP usage. You can't postpone your bedtime because your CPAP cleaner hasn't finished the cleaning cycle.
Are There Any Ongoing Costs?
Buying the CPAP cleaner is not the only cost related to it. Some units work only with specific cleaning solutions, which might be pricey. Keeping in mind, you'll be using the cleaner frequently, the cost quickly adds up. Some components in CPAP cleaners need frequent replacements, after a time of use, or after a set number of cycles. Depending on the brand, they can be affordable or costly.

These are ongoing and upkeep costs that can vary depending on the manufacturer. Carefully examine the maintenance requirements before buying. You don't want to be caught by surprise after purchasing the unit.

FAQ
How does a CPAP cleaner work?
CPAP cleaners have a chamber that accommodates your CPAP mask and can offer one of the 3 types of cleaning methods. UV light is a dry cleaning method that sterilizes and sanitizes your CPAP machine using only UV light. Ozone CPAP cleaners work by delivering ozone into the CPAP parts that require cleaning, eliminating organic matter it comes into contact with. The third kind are ultrasonic and heating cleaners. They use ultrasound waves to agitate and remove particles while heated water and a cleaning solution disinfects CPAP components.
Are CPAP sanitizers covered by insurance?
While your insurance covers the therapy for sleep apnea, a CPAP cleaner doesn't fall under it. If you own a Health Savings Account or a Flexible Spending Amount, they might cover it. It's essential to plan for the expense of a CPAP cleaner when getting your CPAP machine. Check with your medical insurance provider to determine if you're eligible for any coverage.
Footnotes: